Vote for your favorite songs and earn with TrendFi.
Catch the trend early and get rewarded!
Trade the Trend With Sonorus
A Web3 platform transforming how fans and artists interact, discover, and earn with music.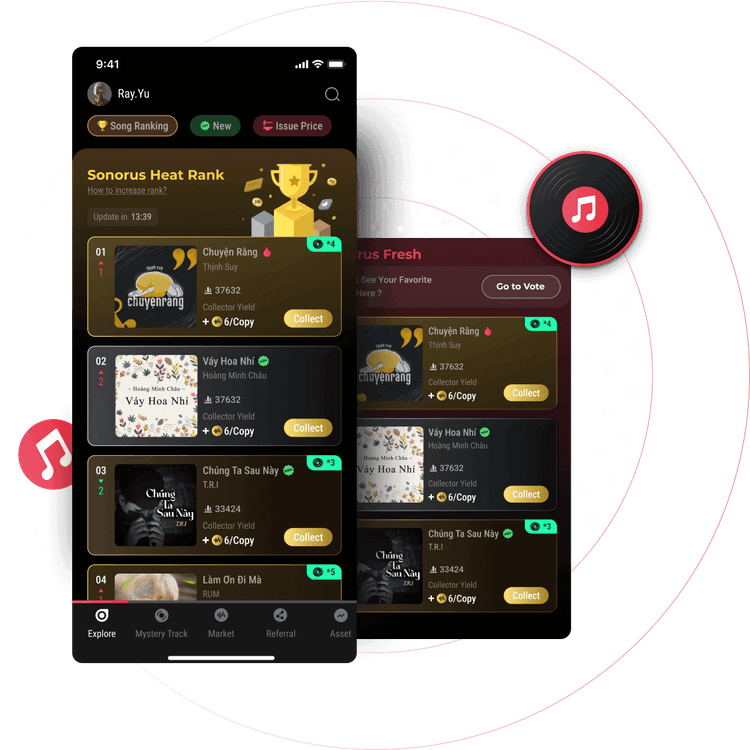 Music Voting
Discover music's next big thing with our innovative voting system. As tracks surge in popularity, the value of your votes grows. Engage, support, and trade trends. Your interaction with your favorite music & artists is now rewarded.
Check >
Empower Music On-Chain & Earn
Lend your voice to emerging tracks with our on-chain voting. As the community rallies behind a song, the weight of your support grows, increasing the value of your music portfolio.
Nominate New Songs
Fans and artists unite to catapult their favourite tunes into our vibrant directory, spotlighting favorites for the community to rally behind.
Check >
Q2,2023
Project "Free Market"

New music record pricing mechanism - Your music record's value will go up when it's bought by more people!
Music record marketplace - You can trade your music copies now!

Project "Infra Upgrade"

Log in directly with your crypto wallet
If you don't have one, we will easily create a new wallet for you via our collaboration with Particle Network
Q3,2023
Project "Launchpad"

Music Artist Portal: Brand new platform for ALL artists to submit and release their music works via Sonorus protocol
Music Launchpad: Let the community decide what music to be

Project "DJ"

Launch DJ Node, a significant governance NFT that grants exclusive access to the forefront of shaping the decentralized music landscape. As Sonorus ecosystem evolves and thrives, DJ Node holders stand to reap the collective benefits and rewards that come with it.
Q4,2023
Project "Talent Scout"

DJ Node holders will be granted exclusive privileges in endorsing new music releases on Sonorus, and enjoy future revenue sharing from the success the music they endorsed

SNS Airdrop Campaigns

A second wave of SNS token airdrop designed to reward our loyal and active music supporters in Sonorus App
Q1,2024
Project "Scout Network"

A series of social features allowing users to create their social profiles on Sonorus and showcase their music recommendations and past achievements
DJ Node holders will not only enjoy specially designed presentations of their profiles and but also higher weights in profile discovery, which makes their music choices much easier to be recognized by others

Project "Loyalty Rewards"

Introducing a series of loyalty rewards for our lovely community members who have been supporting us along the way. The rewards will especially favor SNS token holders and DJ Node holders
FAQ
Help Center
What is Sonorus?
How can I earn with Sonorus?
Can I upload my own songs or my favourite songs on Sonorus?
Our Investors